Why Poetikal refugee ?
One S.P is the original Edinburgh French MC. Migrated from Cannes to Scotland to show the world what French rap is all about. This is the man who started it all.
From back in the day in Yorkshire when he was on New Flesh for Old's first single – international networks – kicking off the third ever release on Big Dada.
More than ten years later, 1SP is still the premiere French MC – and the only one – known to drop sick freestyles and live performances all over Edinburgh!
Onesp first album is called Refugie Poetique /Poetikal Refugee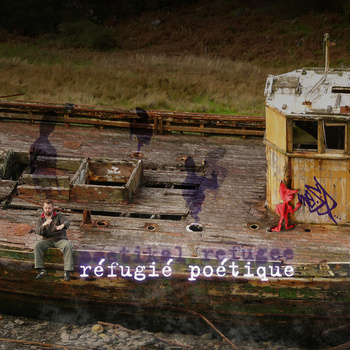 for a simple reason. He writes about his own experience of being an expatriate, leaving france with nothing to lose, but also, about other people, other cultures he has came across through his travels.  
The album describes different chapters of One S.P life , before and after moving to Edinburgh, and how its perception of his own country -and the world – has changed (check, a la guerre).
Being cut off of what's happening in France, especially regarding the music industry, onesp has developed an hybrid style -rapping in french keeps him in touch with french speaking people- but rapping in french in front of an english speaking audience makes him unique and alone at the same time. 
It is impossible to be fully part of the scottish or the british music scene, if your french, even if you live there, and   equally,  you can't be part of the french scene, because you simply don't exist there. That's the reason why the concept of the album revolves around this notion of refugee.
A perfect example of this duality french MC in Scotland: Freestyle competition final , at the liquid rooms, 2003.
No chance to win when you attend a scottish national MC competition if you're french, because this competion aims at promoting new scottish talents. Second, when your rhymes are being quoted by a journalist "you're just a fake, like justin timberlake" and used as a reference, it becomes flattering, because this is not your first language you're using. It's an impredictable thing, one day people love you, the next day they hate you…depending on the political context or just simply the mood of the people you come across on a particular day and place.
In the end, it's always interesting to be stuck between two cultures that don't necessarily interact, it's the coolness of being different. 
Soundwise, the productions are very diverse – from jazzy beats (ration d'alliterations) to accoustic guitar (when it's raining) , afro soul (style libre) to electro opera (mythomane) and so on…They are diverse because all the artists involved in the project are from different musical backgrounds, ethnicities, and even languages.
Onesp is sometimes compared as mc solaar, because of the mellow voice and agility and versatilty of flows. (check, ration of aliterations)
Another interesting feature of the album, some artists are not in Scotland or have moved recently. The songs travel through the internet or the post, arrive to onesp, lyrics are being recorded, the track go somewhere else, post production is added (like scratches or effects) and finally it is mastered elsewhere. It's like a circle of creativity.
the Songs are made in home studios, as it comes, naturally. No rules, just friendships and a nice bottle of wine (or whisky, it can boost the creativity!). If there is musicians present the day of recording, then they will be incorporated in the track,
because you never know..they might be out the country soon…and other times, the track is done in one take , with improvised lyrics (style libre, prismat cut) that will reflect the mood of the moment, or the emotions withdrawn from the music.
Again, there was no strategy to find an album cover, it just came along. A simple picture of a fishing boat wreckage, taken in kerrera island on the west coast casino en ligne gratuit of Scotland, on a sunny october day. The boat represents the travels, the memories, the fears as well - of not being able to leave again-
Onesp is sitting on the deck, meditating and trying to fight its demons.
 realised by Molecular scissors – an edinburghextraodinaire graphic designer and re-shaper  -  the cover thrives to portray onesp as an artist waiting for his time to shine, a poetikal refugee, seeking for his identity !
Artists involved in the album:
Another poetikal refugee ! my good friend praxis -half english/half scottish – studied in Leeds and cambridge, and now lives in New dehli – India. He is an hip-hop and drum and bass DJ/producer , who has started a new musical current in India , with his crew, Bass Foundation.
BassFoundation is a collective of DJs, producers and MCs promoting Drum & Bass, Dubstep and other bass-heavy dance music in Delhi and India.
Praxis has produced the intro of my album along with DJ swiss cheez, adding his touch to the album !
DJ Swiss Cheese (Three feet cats, Oras production France) a bass player, DJ and beat maker, influence by ska punk and reggae rythyms.  
DJ swiss cheez met One S.P at one of his gigs in Edinburgh. He was a student at the time. They started working on the album together along with Dyems. He produced and re-arranged some of the songs, and helped with the post production the following year when he went to study music production in the States the following year. On the album, he has produced the tracks , red weed and le mythomane. Funny enough, his room mate in the states was an opera singer , and he offered to feature on le mythomane , which gives it another dimension , because it's a sarcastic track about compulsive liars (politicians mainly..) using a sample of an old fennish opera , transformed into drum and bassy dark hip-hop tune !
Cousin cole (Flagrant Fowl records, New York). Cousin cole is actually becoming one of the biggest dance DJ around. He recently released a hit called"crank dat, soulja boy remix" that has been played all over the world.
he has produced the track "perle rare de dakar"
Burning Dog (edinburgh) -Red dog music – he is behind musical experiments such as "Asazi space funk explosion"  that mixes funk jazz and afro beat.
Whys (Tape deck records, edinburgh), an ecclectic producer, from Edinburgh.
 Show improve (Edinburgh/ London),  a soulful producer often compared to kanye west. He's involved in different projects within the UK grime scene (baby blue, kalashnikov) 
B-burg (Burgh Records, Edinburgh)), a recognised jazz guitarist and turntablist that used to be in the band , livesciences
Dyems (edinburgh), part of kyons and Dyems, formely from the abdominal snowmen crew. Mike krummins a.k.a Dyems, is the main Mc featuring the album and he produced the tracks "poetikal refugee" , "qui verra vivra", and nocturnal opera. Mike has been involved in managing edinburgh venues, doing hip-hop workshops, organising festivals and just being a very good rapper -my favourite scottish one – especially because of his sense of humour, his metaphores, and a very eastern dry scottish accent !
julien pearly (pundigrion films) , features on "when it's raining" . Julien is a musician / film maker from the south of France (like myself) who has been living in edinburgh for a decade. He's been a great support along with peter gerard and nix soldan (accidental media) in filming and editing , and performing.
From the city of gdansk – Poland – Prismat has a central Europe touch to his music. He's a hip-hop producer and DJ based in Edinburgh. He has produced the track -Prismat Cut – and we are doing a few nights together during the festival , at the store.
from Underling, a Dumfermline acoustic hip-hop band. Asmathics Astronaut has been mastering the album, we are working on new tunes together…he has a very mellow and chilled out style of productions.
Filed by ONE S.P at January 31st, 2008 under